Below are links to the fictional locations of Pirates of Remus.
The Mauretani Isles are off the coast of Morocco in the Atlantic Ocean. They were previously colonized by the Romans, who then let them go when North Africa was taken over by Arabs. The islands remained in a grey area and were forgotten, falling into disrepair. They were rediscovered as European countries began extensive colonizaiton, leading to a break-up of the islands between many different ruling parties. For the sake of harmony among the small group of islands and for the sake of the people there many of the nations have appointed local officials to run semi-autonomously, so as Europe broke into war, the isles kept steady peace, only occasionally brushing against each other with visiting naval ships. The isles acted as a good central trading post between the Americas, the colonies ont he coast of Africa and Europe.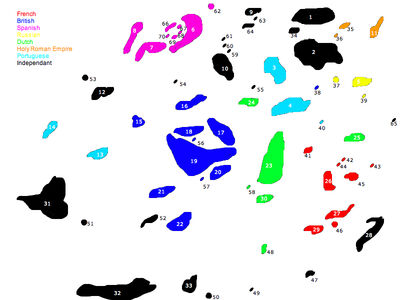 Below are links to information on each of the Isles. Ports are marked with a *.
Port Matthew
Hackanaf
Mayfair
Thealt
Port Anthony
New Pagua
Port Ivanoff
San Elmo
San Septin
El Gilas
No settlements
Port John
Panin
New Konigsberg
Port Crossroads
Hittelsberg
Parmanaf
Cornin
Port Divinity
Wellins
Mariacus
Radenshire
New Marington
Port Mary
Port Adas
Mariestad
Port Girett
New Celeve
Port Antioch
Port Dila
Fellsberg
Galina
Fort Charlemagne
New Moskva
Fort George
Port Owlik
Ovrain
Madeon
Takilia
No settlements
Charlin
Fort Louis
No settlements
Erasmus Manor
Community content is available under
CC-BY-SA
unless otherwise noted.